Baby ducks, flowers, and lambs not your thing? Fill your basket with something different!
Last week, I made these little dust bunnies. They amused me and also gave me a chance to make something else out of that cool linen color yarn. I can't wait to pack some away in plastic eggs for Easter surprises!
These are so quick to make. You could whip up a whole warren of dust bunnies if you have a little time! Give a basket of these guys and a mini broom or feather duster for a fun Easter gift!
Here are some other patterns you might want to try: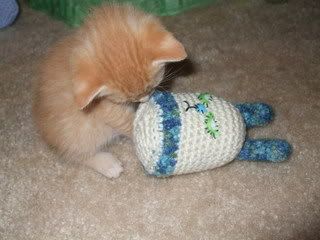 Thank you to all of the above artists!